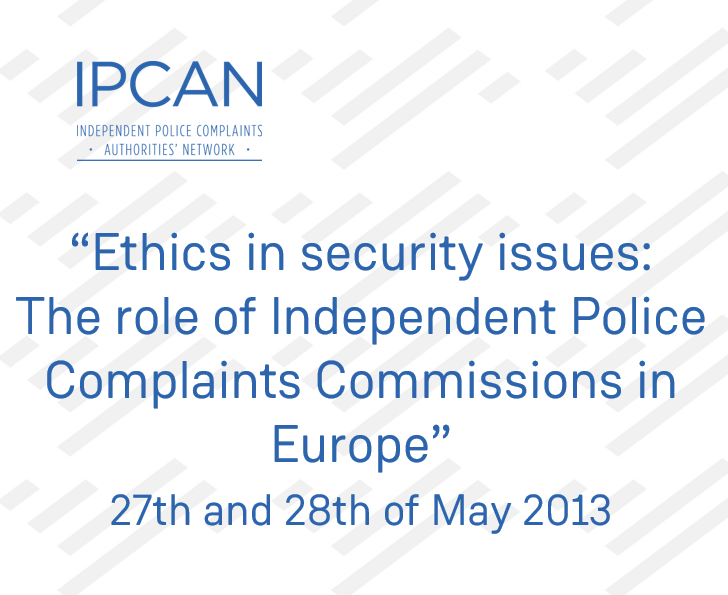 On 27th and 28th of May 2013, the Defender of Rights organized a seminar concerning the role of independent bodies with regard to security ethics, a meeting which brought together counterpart institutions concerned with security ethics : the Independent Police Complaints Commission (England and Wales), the Comité P (Belgium), the Independent Police Complaints Authority (Denmark), the Defensor del Pueblo (Spain), the Chancellor of Justice (Estonia), the Garda Siochana Ombudsman Commission (Ireland), the Commissariat à la déontologie (Switzerland) and the Commissaire à la déontologie (Québec).
.
The objective of this meeting was to discuss subjects of common interest, concerning the handling of complaints against the police and other security forces, in particular with regard to disciplinary sanctions, alternative methods for the resolution of disputes between citizens and the police, frisking and searches, and the use of intermediate means of force (Flash-Ball and electroshock guns).
.
Also, the institutions present gave their assent to the establishment of a network for reflection, exchange and cooperation, convinced that the effectiveness of a Rule of Law is based, in particular, upon the existence of an independent body, set up to watch over the activity of professionals performing security duties in an impartial manner.
Resources
Program – IPCAN Seminar on 27th and 28th of May 2013
Synthesis Report of the Seminar
Conseil de l'Europe : "Police oversight mechanisms in the Council of Europe member States" (2015)