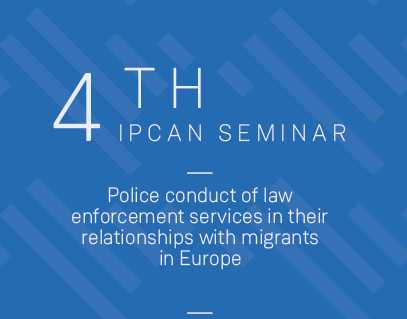 Friday 14 December, at the Defender of Rights' headquarters, Jacques Toubon opens the fourth seminar of the Independent Police Complaints Authorities' Network (IPCAN) that deals with the "police conduct of law enforcement services in their relationships with migrants in Europe".
.
The European Union has focused on security policies and on the strengthening of its external borders[1], at the expense of the establishment, in member-states, of asylum and hospitality policies respectful of human rights and consistent with treaties and conventions ratified by states. This positioning increases the role of law enforcement services in the establishment of asylum and immigration policies, at the European and national levels.
.
However, law enforcement services undergo important pressures because of a decrease in their financial and human means but also because of a performance obligation bearing on them, in terms of police stop of people in an irregular situation and of deportations. It seems that this occurs without a systematical training of police forces to the protection of rights.
.
Participants to the seminar will exchange and debate over topics such as the conditions of identity checks of foreigners; interventions of law enforcement forces in humanitarian premises; camps and administrative detention centers; access of exiles to translators, lawyers and health services; or the terms of deportations.
.
In that respect, the seminar will be divided into three sessions:
Police conduct of law enforcement services regarding migrants present on the national territory
Police conduct of law enforcement services and administrative detention
Police conduct of law enforcement services and returning procedures
Each topic is punctuated with interventions of National institutions members of the IPCAN network but also of other structures (notably with the participation of Myria, Federal migration Center (Belgium) or of the General Controller of Places of Deprivation of Liberty (NMP, France)). The Council of Europe, the European Union Agency for Fundamental Rights and representatives of United Nations also presented their work on these topics, while the Defender of Rights introduced his report entitled " Exiles and fundamental rights, three years after the Calais report", which draws conclusions on the treatment of exiles in Calais and the camps of Grande-Synthe, Ouistreham and Paris, and accordingly addresses recommendations to public authorities.
[1] On 28 June, on the occasion of a European summit in Brussels, the European Council has chosen to give priority to "effective control of external borders of the EU", to "the sensitive acceleration of returns of migrants in an irregular situation", to the pursuit of the establishment of "regional platforms of landings", to "controlled centers" and to the strengthening of Frontex's means, the European Agency for the management of the operational cooperation on external borders.
Synthesis of the Conference
A synthesis of the conference is available here.
Speakers' biographies are available here.
Resources
Defender of Rights' report : "Exiles and fundamental rights, three years after the Calais report" (full report in French available here).
European union Agency for fundamental Rights (FRA) : "Apprehension of migrants in an irregular situation – fundamental rights considerations"